In this particular edition, we'll be looking at the Southern region and seeing what this territory has to offer current and potential Aexus partners.       
The South would be categorised as a warm temperate zone but it's position can affect the weather dramatically. With the Gulf of Mexico on one side and the Atlantic Ocean on the other, the location of the Southeast means it is prone to suffering from extremes of weather. Also, as the region has coastal areas as well as areas farther inland, the Southeast can and does experience heat waves, cold snaps, droughts, floods, blizzards, tornados and hurricanes.
The South has a unique culture of its own that is quite distinct from the other US regions. It has produced some of the finest American literature from the likes of Mark Twain and developed musical styles such as jazz and blues. And as for technology, Florida alone has NASA's Kennedy Space Centre, where you can see the technological marvel that is the space shuttle Atlantis, which was in space 33 times. 
Walt Disney World Resorts are also in Florida and they rely on hi-tech products to keep their entertainment up to date, so they can stay at the top of their game, particularly in the Epcot Centre. What you'll notice about these achievements though is that none of them are particularly recent. So, what of the current tech scene in the South? 
As America has moved away from its obsession with Silicon Valley, other states and regions are getting a look in and this means there are tech hubs springing up all over the country and the South is no exception. In fact, the Southeast is outpacing most of the rest of the country in terms of funding right now. According to Pitchbook, start-ups in the South gained more than $5.1 billion in funding across 289 deals in Q2 of this year. If nothing else, this at least shows that the start-up scene is alive and well. Valuations are soaring in Atlanta as well and in the past ten years, a dozen companies have been valued at over $1 billion which is the threshold for being considered a unicorn. Even in places you wouldn't expect like Louisville, Kentucky, there's JumpCloud which in the ten years since it was founded has been funded with $192 million. And, what's even more surprising about this is that Kentucky is considered to be an emerging tech market rather than an established big player. But, all that really proves is that if the technology is good enough, you can be anywhere. What's more, smaller markets grow faster than large ones because there's more room to expand into. 
So, whether you want to work in the South, scale to the South or actually build your own start up in the region, let's take a look at some individual states in a little more detail.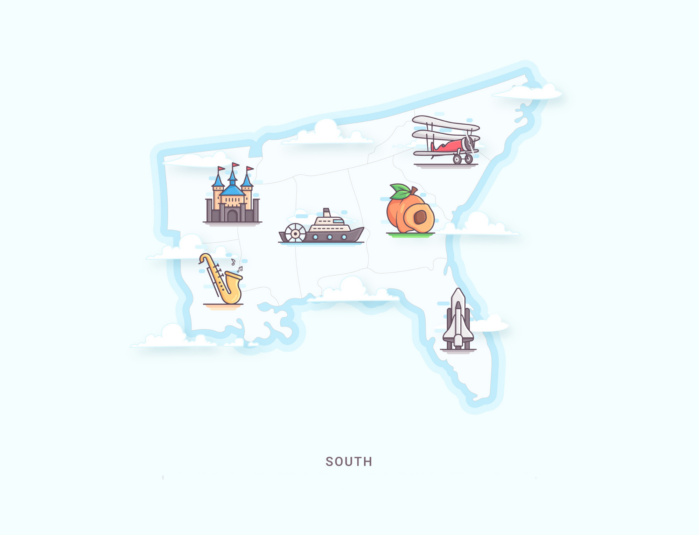 Newly nicknamed The Silicon Valley of the South, Atlanta in Georgia has been quietly building a tech start-up community that is poised to take the tech world by storm. And, with Microsoft, Apple, Alphabet and Visa opening offices in the city to increase their diversity targets, the draw of Atlanta must be working. One of the tactics the city is using to draw companies in is the Atlanta Tech Centre which is at the forefront in transforming the city. Already, they claim to have launched more than 300 start-ups, created more than 6,500 jobs and its companies have raised more than $826 million in capital. Also, Georgia Tech's College of Engineering pushes out highly qualified graduates every year so employers will have no problem finding people. The draw for employees from would be the mild winters and enough sports teams that you'll be spoilt for choice when deciding who to support.
Miami in Florida has become one of the leading tech hubs in the US according to Forbes Magazine, who place 'The Magic City' at number 2 on their list ahead of both New York and Austin. In the current economic climate, although investments halved from $2.2 billion last year there is still enough interest in the Miami start-up scene to keep the venture capitalists happy. Having said that though, as the city's tech ecosystem grows it becomes harder to cut through the noise to identify future unicorns. Google of course have been there for years and have been conducting economic activity to support Florida businesses, they also hold a sales academy for entrepreneurs and have said they will train low income individuals for in-demand tech jobs. Miami does have a number of incentives to bring in both workers and start-ups though. These include amazingly favourable tax arrangements, the weather and the lifestyle choices you're able to make. This has drawn a lot of people to Miami and one estimate suggests that of US migrants to the city, as much as 30% has come from San Francisco.    
The Research Triangle in North Carolina is comprised of Chapel Hill, Raleigh and Durham and produces a very well educated workforce that is feeding the tech start-up scene. What this has done to the area is transform the former warehouses into co working spaces and trendy cafes along with a Google office located next to the University of North Carolina. This might sound unreal but the tech scene is very real and venture capitalists are ready to pay for it too. Among recently funded start-ups, PrecisionHawk (drones) got $75 million, Pendo (business website analytics) got $50 million and Teamworks (sports team scheduling software) got $15 million. But the Triangle is really the place to be to watch this story unfold. The start-up scene is very software heavy and that is at least in part due to the excellent engineering and computer studies classes at the three local colleges. With all that has happened so far, the future looks very bright for North Carolina.
Huntsville, Alabama, is no stranger to the tech scene. After all, it was once known as 'Rocket City' for its participation in America's space program. It's also well stocked with engineers, 20,000 of them if you're interested. And it's this outsized population that are the driving force behind Huntsville's tech and start-up scene. In fact, of its top 30 employers, 17 are in science/tech-focused businesses. With its history in aerospace and defence, every aircraft manufacturer you can think of has a presence in the town but there's other business too. Facebook and Google have both opened data centres, LG is building a solar panel facility and biotech incubator HudsonAlpha is home to over 40 businesses working on human health research. There have been numerous success stories as well like ADTRAN which went public, Dynetics is a highly successful applied science and IT contractor and was acquired in 2020 by Leidos for $1.65B; and Intergraph, a leading provider of enterprise engineering and geospatially powered software, was acquired by Hexagon AB for $2.13B in 2010.
Do bear in mind though that the sticky heat of Alabama lasts for about 7 months of the year. And, while the cost of living is cheap and the quality of life is good, the weather can occasionally be overbearing.  
Nashville in Tennessee may be more famous for Country and Western music than it is for tech but that is all changing. According to Nashville's tourism board, more than 80 people a day are moving to Nashville, and the number is steadily increasing. Growing more than 36% in the last five years with more than 60,000 people in the area hold technology jobs. And while Nashville's tech workforce is on a much smaller scale than some of the bigger tech hubs, it is growing more quickly. Although it's a diverse mixture of tech companies, the largest focuses are on cloud, fintech, software and consumer web. As if to give credence to Nashville's credentials, both Oracle and Amazon are due to open offices there. This will bring thousands of jobs to the area and will create even more of a population boom than is already happening. 
Conclusion
This is the end of our series on where would be best to scale to in the US and I hope we have been able to inspire and inform you in equal measure.
For now, please feel free to leave your comments below and if you'd like to work with us directly to find your perfect route into the US, get in touch. We're always more than happy to jump on a call.