In this particular edition, we'll be looking at the Western region and seeing what this territory has to offer current and potential Aexus partners.       
The West is very cold in the north and in fact, Montana is among the coldest states in the entire country. By contrast, the south has a more arid, desert like climate and The Mojave Desert actually covers a southern portion of Nevada and then just nudges into Utah as well. Throughout the Western states though, there is a huge annual variation in temperature with some states seeing variations of 30 degrees or more.  
When you think of The West, it conjures up images of the Rockies, the bright lights of Las Vegas and the scenic backdrop of a thousand cowboy movies but there is a lot more to it than that and particularly in tech. As we are all well aware, the American trend for situating tech hubs around the coastal cities has taken a turn in a different direction in recent years and this decentralisation now means that large parts of the country can claim, in part at least, to be a hub for technology and innovation. On the whole, this new trend has benefitted a lot of cities and has often breathed new life into places where inward investment had been in steady decline since the 2008 crash. It also helps to stop the brain drain effect with local talent more likely to stay local. Some states do of course attract more investment than others and not every state is rolling around in venture capital dollars but if you take a look, some places will surprise you. Who would have thought just ten years ago that Austin, Dallas and Raleigh would have overtaken the likes of San Jose and San Francisco on the tech scene? Now, when you're talking about the 'new tech hubs', all of them offer lower taxes and reduced operating costs for the start-up owners and a more affordable cost of living along with a better quality of life to attract talent to relocate. For most of the country, these claims are true but for the Western region, Colorado in particular stands out. The state not only has the mountains for great views, hiking and skiing but also amazing lakes, streams and rivers for some of the best inland fishing in the US. In fact, if the outdoor life appeals to you in any way, Colorado has it all. The other Western states also have their charms in terms of different nature and wildlife and should not be overlooked regarding your quality of life.   
There is a misconception about the Western states, in this case, Montana, Idaho, Wyoming, Nevada, Utah and Colorado, that they are somehow behind the rest of the country. They are rudely referred to as the 'fly over' states as in the states that people bypass on their way somewhere else. The reality is quite different though and if you thing their past is still their present, you are very much mistaken. The start-up scene in these states is thriving and between them, they can boast of two unicorns in the form of MX from Utah and Dispatch Health from Colorado as well as millions in funding.
What's more, even if we just take one example from each of the other four states, you can see how seriously The West is being taken by the tech world. Nevada's Sightline got $353 million in funding, Idaho's Tackle.io got $56 million, Montana's Submittable got $28 million and Wyoming's Language I/O got $5.5 million. That's over $400 million in just four start-ups across four states. When you add in the contributions of Utah and Colorado, that's well over a billion. So, let's look at some individual states in a little more detail.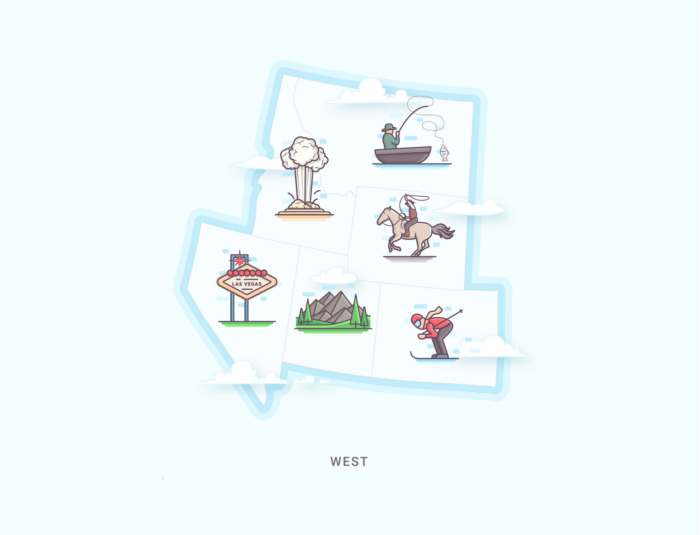 If venture capital is a good indicator of where to look, then the Denver area in Colorado should be on your list. The region has seen venture-capital investment soar in recent years and start-up support services such as tech-focused law firms setting up shop in the region. It is arguably the largest technology hub in the Western region and has shown itself to be particularly strong in the B2B SaaS sector. It has also managed to attract the likes of Facebook, Amazon, Intel and Google to set up bases there. 
Another slightly more established place in the same state is Colorado Springs and both cities feature as two of the most resilient tech hubs in the country, according to recent research by LinkedIn. On top of this, Colorado Springs is getting a name for itself particularly as a cybersecurity hub with more than 125 cybersecurity companies having offices there. And, as if to affirm the city's status as a cybersecurity hub, Utah-based firm Ivanti recently announced that they are expanding their operations to a new base in Colorado Springs.
As might be easily predictable, Nevada's most famous start-up is a leading payments provider for the sports betting and casino gaming markets. However, Nevada doesn't just want to be the gambling and entertainment capital of the world, it also wants to become recognised as a tech hub and is putting strategies in place to draw companies in. What's more, it seems to be working as Information Technology is now among their top five industries. On top of this, Las Vegas is also home to some of the biggest conferences, trade shows and fairs in the world. Many of these are tech events and not only do they attract hundreds of thousands of industry specialists a year but also some of the sector's biggest names, thought leaders and investors. 
Currently, Google already have a datacentre there and Nevada is the home of Virgin's Hyperloop, although the companies they are trying to attract are start-ups that would also bring more jobs. The state could be a big draw for start-ups as it has a thirst for innovation and was the first to legalise driverless vehicle testing. So, you can't deny that Nevada has ambition and there are certainly reasons to be here from lower taxes and a lower cost of living to lower housing costs and reduced operating costs. 
That Salt Lake City in Utah has been nicknamed the Silicon Slopes should give you some sense of how well things are going on the tech scene. To the casual observer this would seem to have been a success that happened overnight but those with long memories will remember that WordPerfect and Novell were the forerunners of the tech scene there. During the early 2000s, companies like Ancestry.com, Vivant and Omniture moved in with the latter being bought by Adobe. This even prompted Adobe to set up a permanent base in Utah. Staffing is not a problem either as interestingly, Utah has the highest number of tech degree holders in the country per capita. With credentials like this it's perhaps no surprise that according to a Sleek Capital study of all 50 states, Utah easily ranks number one as the best state for start-ups in America.
Boise in Idaho is making its debut on Inc.'s list of Surge Cities, a ranking of the best American hubs to start a business. At No. 5, one place above San Francisco, it is trying to lure talent and entrepreneurs away from the expensive but very cool coastal cities. Of course, Bosie does have its own kind of cool with its music scene and the wide open spaces but this is a lifestyle choice. Don't forget though that Idaho has been cultivating a creative business ecosystem for technology professionals for the past ten years. That's why cities in northern Idaho are doing very well and technology is of course the main economic driver.
Located in southwest Montana, a city called Bozeman started getting a lot of attention in 2012 when homegrown SaaS start-up, Right Now Technologies was bought by Oracle for $1.5 billion. Ever since that acquisition, a new class of entrepreneurs has been created and those founders are now providing a lot of high paid, high tech jobs. In fact, in the five years since the Oracle deal, Montana topped the Kauffman Foundation's rankings of start-up activity for four years running. This is despite Montana have a low population and an historic problem of many college students leaving the state right after graduation. That trend has now been reversed and not only are Bozeman companies able to attract people who were born in Montana, they are retaining them too. On top of this, the tech companies have a level of lifetime retention that is almost unheard of in the sector.
Lastly, don't forget that Wyoming is also up and coming. Through its relationship with Microsoft, there has been a lot of investment in datacentres and it was the first state to transition all of its employees to Google Workspace. So, what you have is a state government that is open minded and receptive to tech and is trying to grow. They are beginning to find some success in establish themselves as a blockchain hub although the fastest growing start-up at the moment is actually Language I/O who produce a multilingual customer service tool. 
Conclusion
There is still a long way to go in our series on where would be best to scale to in the US but there are a lot of positives to take from this edition on The West. You may have already had ideas about where you think your particular domain is best suited but with 2 more regions still to look at, you may find something better in a later post. Until then, please feel free to leave your comments below and if you'd like to work with us directly to find your perfect route into the US, get in touch. We're always more than happy to jump on a call.